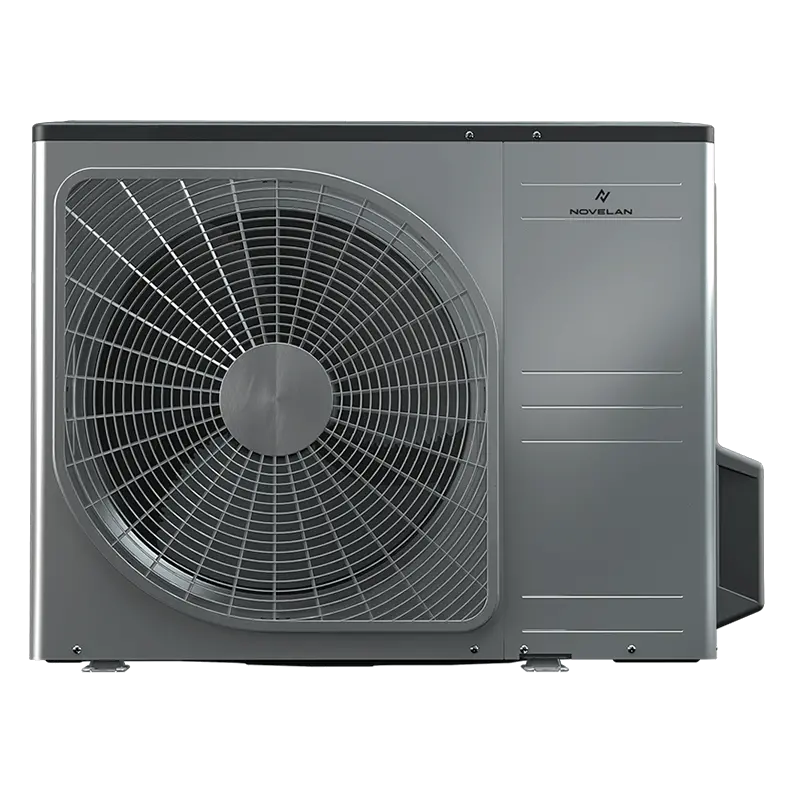 LSplit series
Economical and functional - the L Split series from NOVELAN for outdoor installation. Thanks to their heating and cooling functions, the units ensure a comfortable climate in the house all year round. They consist of an outdoor and an indoor unit, which is installed in a compact and space-saving manner and is thus also optimally suited for smaller buildings.
Benefits
Low cost entry
Are you looking for a cost-effective entry into environmentally friendly heating, but still want an economical, functional and compact solution? That's exactly what the L-Split from NOVELAN offers.
Compactness in one device
Heating, cooling and domestic hot water preparation in one compact system - ideal for modern buildings with low-temperature heating systems. With an integrated energy efficiency pump, a buffer tank and a heat exchanger for domestic hot water preparation, the LSplit forms a compact system that leaves nothing to be desired.
Efficient operation through intelligent energy management
Timer programs and a night setback ensure even more efficient operation with the L Split. This means that energy is only generated when it is actually needed.
Item number

103698CS601

Product group

AIR/WATER

Heating capacity 1

2,32 (A2/W35 part. load) kW

Heating capacity 2

2,67 (A7/W35 part. load) kW

COP 1

4,2 (A2/W35 part. load)

COP 2

5,32 (A7/W35 part. load)

Max. flow temperature

60 °C

Indoor / Outdoor installation

Outdoor installation

Cooling

No

Refrigerant

R410A

Energy efficiency class space heating 55°C (combi heater)

A++

Energy efficiency class hot water preparation (combi boiler)

A

Energy efficiency class space heating 55°C (combined system)

A++

Energy efficiency class hot water preparation (combined system)

A
Item number

103626CS1201

Product group

AIR/WATER

Heating capacity 1

5,11 (A2/W35 part. load) kW

Heating capacity 2

3,86 (A7/W35 part. load) kW

COP 1

3,76 (A2/W35 part. load)

COP 2

4,65 (A7/W35 part. load)

Max. flow temperature

65 °C

Indoor / Outdoor installation

Outdoor installation

Cooling

Yes

Refrigerant

R410A

Energy efficiency class space heating 55°C (combi heater)

A++

Energy efficiency class hot water preparation (combi boiler)

A

Energy efficiency class space heating 55°C (combined system)

A++

Energy efficiency class hot water preparation (combined system)

A
Item number

103627CS1201

Product group

AIR/WATER

Heating capacity 1

6,91 (A2/W35 part. load) kW

Heating capacity 2

5,21 (A7/W35 part. load) kW

COP 1

3,86 (A2/W35 part. load)

COP 2

4,78 (A7/W35 part. load)

Max. flow temperature

65 °C

Indoor / Outdoor installation

Outdoor installation

Cooling

Yes

Refrigerant

R410A
Item number

103698HV601

Product group

AIR/WATER

Heating capacity 1

2,32 (A2/W35 part. load) kW

Heating capacity 2

2,67 (A7/W35 part. load) kW

COP 1

4,2 (A2/W35 part. load)

COP 2

5,32 (A7/W35 part. load)

Max. flow temperature

65 °C

Indoor / Outdoor installation

Outdoor installation

Cooling

Yes

Refrigerant

R410A

Energy efficiency class space heating 55°C (combi heater)

A++

Energy efficiency class space heating 55°C (combined system)

A++
Item number

103626HV1201

Product group

AIR/WATER

Heating capacity 1

5,11 (A2/W35 part. load) kW

Heating capacity 2

3,86 (A7/W35 part. load) kW

COP 1

3,76 (A2/W35 part. load)

COP 2

4,65 (A7/W35 part. load)

Max. flow temperature

65 °C

Indoor / Outdoor installation

Outdoor installation

Cooling

Yes

Refrigerant

R410A

Energy efficiency class space heating 55°C (combi heater)

A++

Energy efficiency class space heating 55°C (combined system)

A++
Item number

103627HV1201

Product group

AIR/WATER

Heating capacity 1

6,91 (A2/W35 part. load) kW

Heating capacity 2

5,21 (A7/W35 part. load) kW

COP 1

3,86 (A2/W35 part. load)

COP 2

4,78 (A7/W35 part. load)

Max. flow temperature

65 °C

Indoor / Outdoor installation

Outdoor installation

Cooling

Yes

Refrigerant

R410A