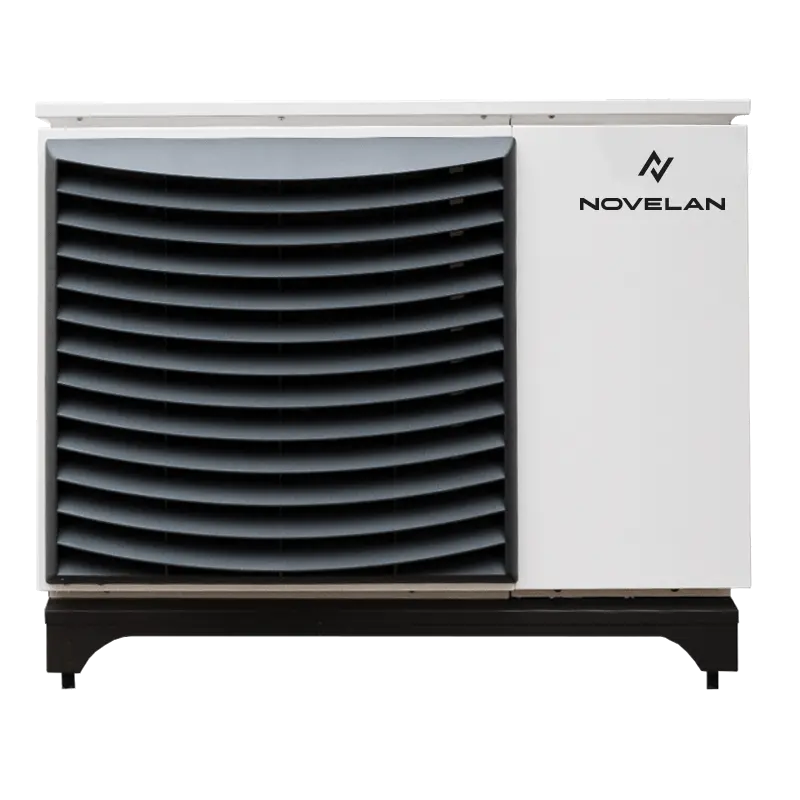 Jabbah series
NOVELAN's Jabbah is one of the smartest and most compact performance-controlled air/water heat pumps. It automatically adapts to your home's energy needs all year round, while keeping your consumption under constant control.
Benefits
Simple and fast installation
The Jabbah is easy and quick to set up and install. Due to the monobloc design, no cold certificate is required for this.
Convenient operation and setting
Plug&Play makes the heat pump easy to install with USB. Settings can thus be easily transferred to several houses of the same design.
Compact and classy design
The compact design of the Jabbah allows space-saving installation of the indoor and outdoor unit. In addition, the air/water heat pump convinces with its modern appearance.
Item number

1037984101

Product group

AIR/WATER

Heating capacity 1

2,32 (A2/W35 part. load) kW

Heating capacity 2

2,61 (A7/W35 part. load) kW

COP 1

4,2 (A2/W35 part. load)

COP 2

5,03 (A7/W35 part. load)

Max. flow temperature

65 °C

Indoor / Outdoor installation

Outdoor installation

Cooling

Yes

Refrigerant

R410A

Energy efficiency class space heating 55°C (combi heater)

A++

Energy efficiency class hot water preparation (combi boiler)

A

Energy efficiency class space heating 55°C (combined system)

A++

Energy efficiency class hot water preparation (combined system)

A
Item number

1037994101

Product group

AIR/WATER

Heating capacity 1

5,11 (A2/W35 part. load) kW

Heating capacity 2

3,92 (A7/W35 part. Load) kW

COP 1

3,76 (A2/W35 part. load)

COP 2

4,61 (A7/W35 part.load)

Max. flow temperature

65 °C

Indoor / Outdoor installation

Outdoor installation

Cooling

Yes

Refrigerant

R410A

Energy efficiency class space heating 55°C (combi heater)

A+

Energy efficiency class hot water preparation (combi boiler)

A

Energy efficiency class space heating 55°C (combined system)

A++

Energy efficiency class hot water preparation (combined system)

A