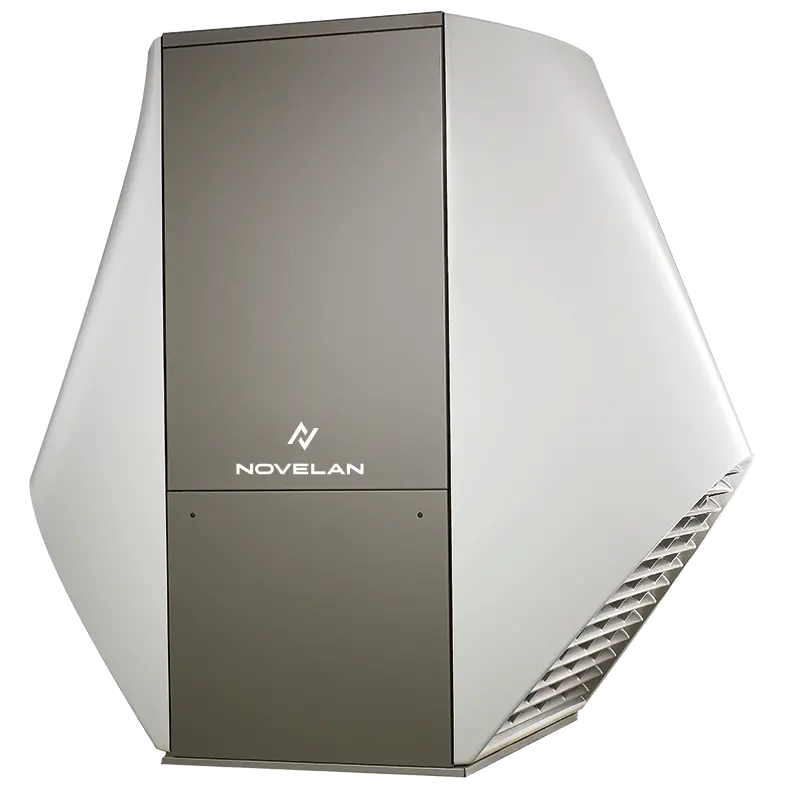 LA series
The air/water heat pumps for outdoor installation of the LA series from NOVELAN are particularly suitable for houses without basements. Whether in the course of a renovation or new construction - with the LA they are completely flexible.
Benefits
Appealing design
Especially when heat pumps are installed outdoors, the devices need a weather-resistant facade. But the LA not only convinces with this, but can also score with a modern and appealing design.
Low space requirement inside the building
LA Series heat pumps placed outside save valuable space inside the building, making them ideal for homes or projects without a basement - more room inside the house for other things.
Modern and flexible heating system
Thanks to versatile modular solutions with coordinated accessories, the LA series leaves nothing to be desired, even under demanding conditions. The flexible devices adapt optimally to the needs of the user and homeowner.
Item number

103545WPR32

Product group

AIR/WATER

Heating capacity 1

17,2 (A2/W35) kW

Heating capacity 2

19,6 (A7/W35) kW

COP 1

3,6 (A2/W35)

COP 2

3,9 (A7/W35)

Max. flow temperature

60 °C

Indoor / Outdoor installation

Outdoor installation

Cooling

No

Refrigerant

R407C

Energy efficiency class space heating 35°C (combi heater)

A++

Energy efficiency class space heating 55°C (combi heater)

A+

Energy efficiency class space heating 55°C (combined system)

A+
Item number

103546WPR32

Product group

AIR/WATER

Heating capacity 1

24 (A2/W35) kW

Heating capacity 2

27,3 (A7/W35) kW

COP 1

3,6 (A2/W35)

COP 2

3,9 (A7/W35)

Max. flow temperature

60 °C

Indoor / Outdoor installation

Outdoor installation

Cooling

No

Refrigerant

R407C

Energy efficiency class space heating 35°C (combi heater)

A++

Energy efficiency class space heating 55°C (combi heater)

A+

Energy efficiency class space heating 55°C (combined system)

A+
Item number

103789WPR32

Product group

AIR/WATER

Heating capacity 1

29,67 (A2/W35) kW

Heating capacity 2

32,50 (A7/W35) kW

COP 1

3,41 (A2/W35)

COP 2

3,80 (A7/W35)

Max. flow temperature

60 °C

Indoor / Outdoor installation

Outdoor installation

Cooling

No

Refrigerant

R448A

Energy efficiency class space heating 35°C (combi heater)

A+

Energy efficiency class space heating 55°C (combi heater)

A+

Energy efficiency class space heating 55°C (combined system)

A+