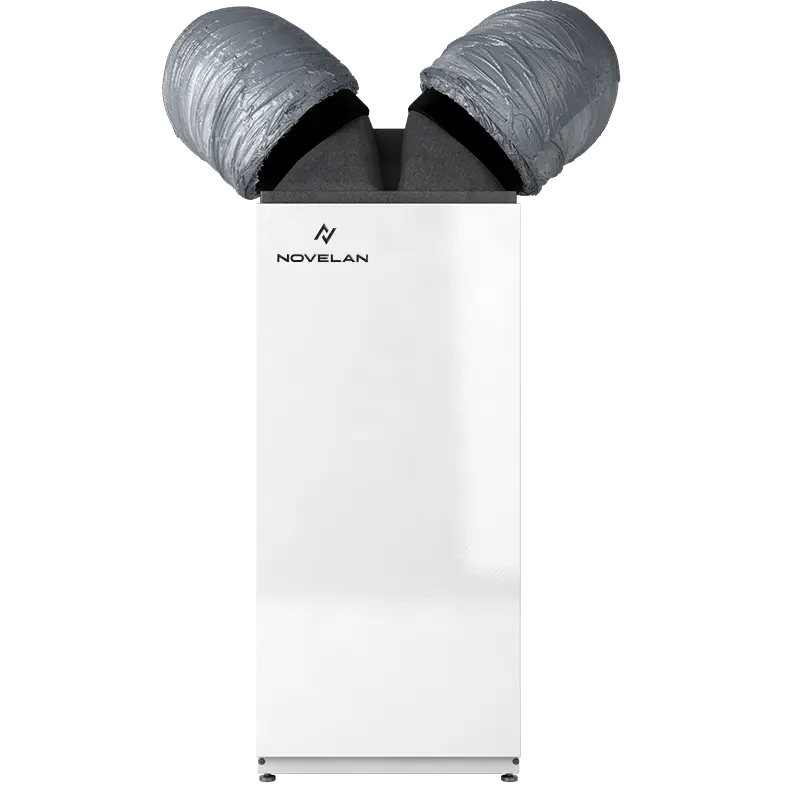 Polaris series
With the Polaris air/water heat pump from NOVELAN, you can now use your living space even more efficiently. The device operates extremely quietly and is absolutely flexible in its installation.
Benefits
Highest flexibility
The compact Polaris heat pump provides heating, cooling and domestic hot water in one system and is perfect for use in both new build and refurbishment.
Simple and fast installation
The installation of the Polaris is possible throughout the house. Air duct systems allow the air/water heat pump to be installed with either roof or wall penetration.
Low space requirement
The Polaris can be flexibly installed inside the building and is still compact and space-saving. This means that no valuable living space is wasted and there is also room in the garden, ideal for tight building situations and small plots of land.
Item number

1038004101

Product group

AIR/WATER

Heating capacity 1

2,17 (A2/W35 part. load) kW

Heating capacity 2

3,47 (A7/W35 part.load) kW

COP 1

4,1 (A2/W35 part. load)

COP 2

4,84 (A7/W35 part. load)

Max. flow temperature

60 °C

Indoor / Outdoor installation

Indoor installation

Cooling

Yes

Refrigerant

R454B

Energy efficiency class space heating 55°C (combi heater)

A++

Energy efficiency class hot water preparation (combi boiler)

A

Energy efficiency class space heating 55°C (combined system)

A++

Energy efficiency class hot water preparation (combined system)

A
Item number

1038004102

Product group

AIR/WATER

Heating capacity 1

2,17 (A2/W35 part. load) kW

Heating capacity 2

3,47 (A7/W35 part.load) kW

COP 1

4,1 (A2/W35 part. load)

COP 2

4,84 (A7/W35 part. load)

Max. flow temperature

60 °C

Indoor / Outdoor installation

Indoor installation

Cooling

Yes

Refrigerant

R454B

Energy efficiency class space heating 35°C (combi heater)

A+++

Energy efficiency class space heating 55°C (combi heater)

A++

Energy efficiency class space heating 55°C (combined system)

A++
Item number

1038004103

Product group

AIR/WATER

Heating capacity 1

2,17 (A2/W35 part. load) kW

Heating capacity 2

3,47 (A7/W35 part.load) kW

COP 1

4,1 (A2/W35 part. load)

COP 2

4,84 (A7/W35 part. load)

Max. flow temperature

60 °C

Indoor / Outdoor installation

Indoor installation

Cooling

Yes

Refrigerant

R454B

Energy efficiency class space heating 35°C (combi heater)

A+++

Energy efficiency class space heating 55°C (combi heater)

A++

Energy efficiency class space heating 55°C (combined system)

A++