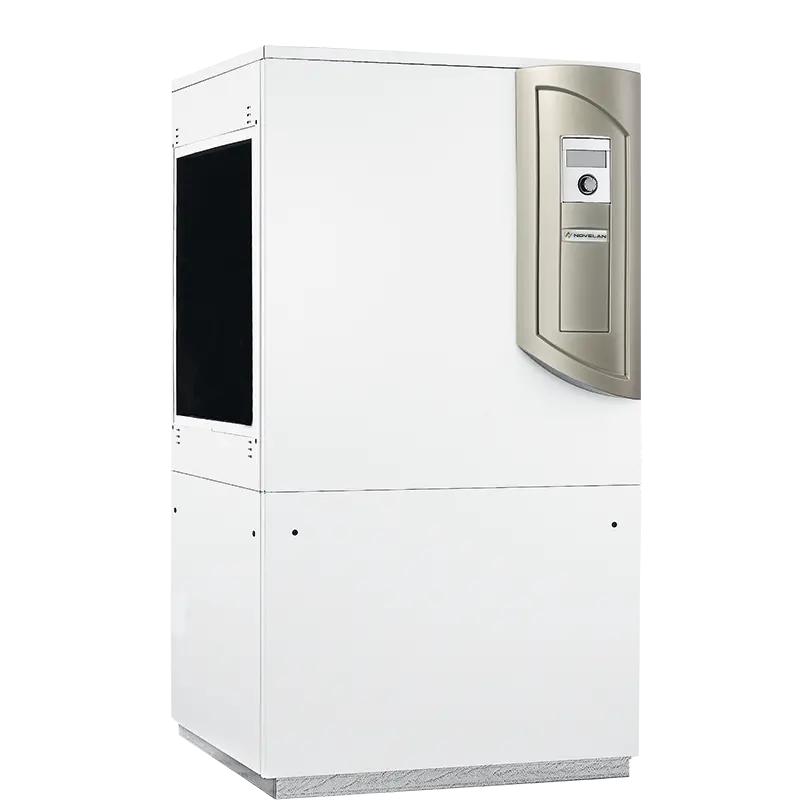 LI series
The air/water heat pumps of the LI series for indoor installation from NOVELAN convince by: The units are powerful and yet flexible in terms of installation. They are ideally suited for both new construction and modernization.
Benefits
Low space requirement
You have little space in the basement or do not have any? No problem. LI series heat pumps can be perfectly placed in small basement or storage rooms.
Many possible combinations
The LI offers numerous combination and installation options. Especially for objects with high power requirements, the LW series is ideally suited - as high performance is easily possible by cascading several units. In addition, the heat pumps are perfectly suited for integration into a solar system, for example.
Energy efficient operation
Timer programs and a night setback are just a few specials: The LI series air/water heat pumps score with intelligent energy management and energy-efficient operation.
Item number

10353402

Product group

AIR/WATER

Heating capacity 1

17,2 (A2/W35) kW

Heating capacity 2

19,6 (A7/W35) kW

COP 1

3,6 (A2/W35)

COP 2

3,9 (A7/W35)

Max. flow temperature

60 °C

Indoor / Outdoor installation

Indoor installation

Cooling

No

Refrigerant

R407C

Energy efficiency class space heating 35°C (combi heater)

A++

Energy efficiency class space heating 55°C (combi heater)

A++

Energy efficiency class space heating 55°C (combined system)

A++
Item number

10353602

Product group

AIR/WATER

Heating capacity 1

24 (A2/W35) kW

Heating capacity 2

27,3 (A7/W35) kW

COP 1

3,6 (A2/W35)

COP 2

3,9 (A7/W35)

Max. flow temperature

60 °C

Indoor / Outdoor installation

Indoor installation

Cooling

No

Refrigerant

R407C

Energy efficiency class space heating 35°C (combi heater)

A++

Energy efficiency class space heating 55°C (combi heater)

A+

Energy efficiency class space heating 55°C (combined system)

A+
Item number

10378702

Product group

AIR/WATER

Heating capacity 1

29,67 (A2/W35) kW

Heating capacity 2

32,50 (A7/W35) kW

COP 1

3,41 (A2/W35)

COP 2

3,80 (A7/W35)

Max. flow temperature

60 °C

Indoor / Outdoor installation

Indoor installation

Cooling

No

Refrigerant

R448A

Energy efficiency class space heating 35°C (combi heater)

A+

Energy efficiency class space heating 55°C (combi heater)

A+

Energy efficiency class space heating 55°C (combined system)

A+