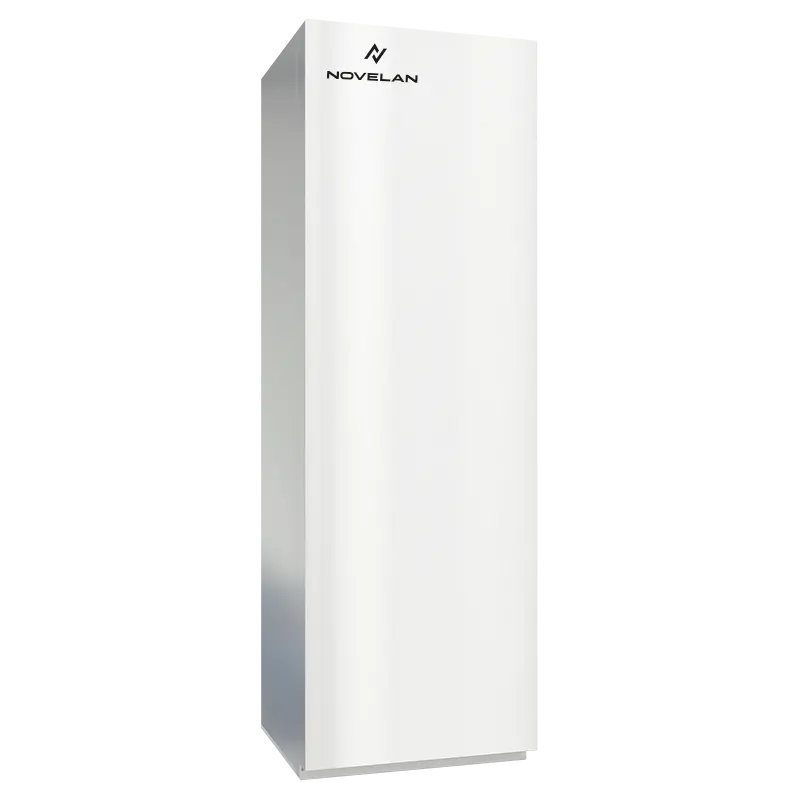 WSV series
NOVELAN's WSV series brine/water heat pumps for indoor installation combine compactness and convenience. They heat, cool and prepare domestic hot water with just one unit - it couldn't be simpler!
Benefits
Space saving and easy installation
The heat pumps of the WSV series already score points during transport and installation. The already integrated domestic hot water tank ensures sufficient hot water at all times and simplifies installation.
Wide product portfolio for every application
The WSV output-controlled heating system can be used anywhere, whether in a single-family home or a row house - in a new building or as part of a renovation project.
Flexible operating concept, worldwide control
With NOVELAN Web, the heat pump of the WSV series can be easily controlled from anywhere - now comfortably and conveniently operate their heating from the sofa.
Item number

10380141

Product group

BRINE/WATER

Heating capacity 1

2,55(B0/W35 part.load) kW

COP 1

4,31(B0/W35 part.load)

Max. flow temperature

65 °C

Indoor / Outdoor installation

Indoor installation

Cooling

Yes

Refrigerant

R410A

Energy efficiency class space heating 55°C (combi heater)

A++

Energy efficiency class hot water preparation (combi boiler)

A

Energy efficiency class space heating 55°C (combined system)

A+++

Energy efficiency class hot water preparation (combined system)

A
Item number

10376341

Product group

BRINE/WATER

Heating capacity 1

3,32 (B0/W35 part. load) kW

COP 1

4,86 (B0/W35 part. load)

Max. flow temperature

65 °C

Indoor / Outdoor installation

Indoor installation

Cooling

No

Refrigerant

R407C

Energy efficiency class space heating 55°C (combi heater)

A++

Energy efficiency class hot water preparation (combi boiler)

A

Energy efficiency class space heating 55°C (combined system)

A+++

Energy efficiency class hot water preparation (combined system)

A
Item number

10372041

Product group

BRINE/WATER

Heating capacity 1

3,32 (B0/W35 part. load) kW

COP 1

4,86 (B0/W35 part. load)

Max. flow temperature

65 °C

Indoor / Outdoor installation

Indoor installation

Cooling

Yes

Refrigerant

R407C

Energy efficiency class space heating 55°C (combi heater)

A++

Energy efficiency class hot water preparation (combi boiler)

A

Energy efficiency class space heating 55°C (combined system)

A+++

Energy efficiency class hot water preparation (combined system)

A
Item number

10376341

Product group

BRINE/WATER

Heating capacity 1

4,00(B0/W35 part.load) kW

COP 1

4,86 (B0/W35 part.load)

Max. flow temperature

65 °C

Indoor / Outdoor installation

Indoor installation

Cooling

No

Refrigerant

R407C

Energy efficiency class space heating 55°C (combi heater)

A++

Energy efficiency class hot water preparation (combi boiler)

A

Energy efficiency class space heating 55°C (combined system)

A+++

Energy efficiency class hot water preparation (combined system)

A
Item number

10376441

Product group

BRINE/WATER

Heating capacity 1

4,00(B0/W35 part.load) kW

COP 1

4,86 (B0/W35 part.load)

Max. flow temperature

65 °C

Indoor / Outdoor installation

Indoor installation

Cooling

Yes

Refrigerant

R407C

Energy efficiency class space heating 55°C (combi heater)

A++

Energy efficiency class hot water preparation (combi boiler)

A

Energy efficiency class space heating 55°C (combined system)

A+++

Energy efficiency class hot water preparation (combined system)

A